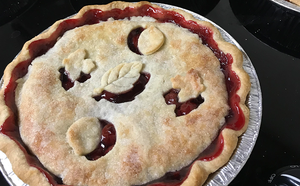 10" vegan pastry filled with tart juicy cherries and topped with pastry. A classic.
Please select Ground Shipping for the following states for all frozen pie purchases. Selecting Ground Shipping provides the best shipping prices. Ground Shipping for the mentioned states will give a 2-day delivery.
Arkansas • Georgia • Illinois • Indiana • Iowa • Kentucky • Michigan • Mississippi • Missouri • Nebraska • Ohio • Tennessee • West Virginia • Wisconsin • Minnesota
Any state not mentioned above MUST select 2nd Day Air for frozen pies.