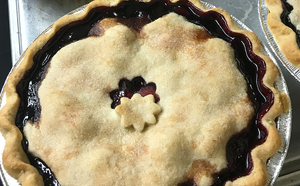 This is the pie guy's recipe and favorite pie. It's a party of blueberries, blackberries, and raspberries. Vegan.
Please select Ground Shipping for the following states for all frozen pie purchases. Selecting Ground Shipping provides the best shipping prices. Ground Shipping for the mentioned states will give a 2-day delivery.
Arkansas • Georgia • Illinois • Indiana • Iowa • Kentucky • Michigan • Mississippi • Missouri • Nebraska • Ohio • Tennessee • West Virginia • Wisconsin • Minnesota
Any state not mentioned above MUST select 2nd Day Air for frozen pies.